Our Location & Serving Areas
What We Do
Trusted Provider of Quality Designed and Landscaped Pond, Foutain & Water Features in Orange County, CA
Orange County Pond Service has been serving all of Southern California since 2001. We grew out of a need to keep ponds and fountains clean and clear for our customers. We like to take things from "green to clean" and then shoulder the responsibility of maintaining that condition for you.
Our specialty is servicing, repairing, and maintaining fountains, Koi ponds, and water gardens.
We are experts in water quality evaluation and balance and know how to create the perfect water quality environment for your fish, plants, and fountains.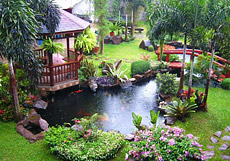 Pumps and Equipment
We install only the strongest and longest-lasting pumps and other mechanical equipment available in the market, to keep your pond or fountain running perfectly.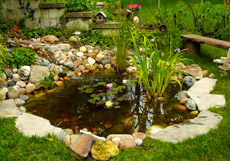 Liners and Accessories
If you are a Do-It-Yourself homeowner, we can supply you with all the gear and accessories you need to build or maintain your own fountain or pond.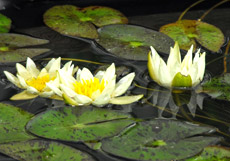 Flora and Fauna
No pond or fountain is complete without a nice selection of plants and animals. If you need koi fish or plants for your water garden, we can help.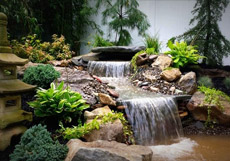 Mobile Service
We come to you! Call for repairs or to schedule maintenance.
1027 E. South St
Anaheim CA 92805
949-653-2305
Our Services and Products
We have been repairing all makes and models of pond and fountain pumps, filters, and related equipment since day one. Our experience is your benefit.
OC Pond Service supplies the latest in custom made filtration and pump equipment and is expert at installaton and upgrades.
Being concrete and liner leak repair specialists, we diagnose and repair any leak issues as well. Our expertise has saved many ponds that other companies have said needed to be completely removed and replaced. This has saved our customers thousands of dollars in unneeded expense.
We have also designed and built many fountains, ponds and water features and have repaired and maintained many aquascape features. OC Pond Maintenance Service carries a full line of repair and replacement products for any need.
OC Pond Service specializes in repair and maintenance of water features, like fountains and fish ponds, and the plants and animals that live in them. We also have designed and built amazingly beautiful and tranquil environments that bring peace and contentment to our customers.
We provide parts and supplies like custom filtration units for both koi ponds and fountains, ultraviolet sterilizer units, pond and fountain pumps (custom made per application) and much more.
Articles to Inform and Educate
We continually update our Articles page with information that will be helpful to our customers in maintaining their pond and its inhabitants, both animal and plant. Read all about it here.